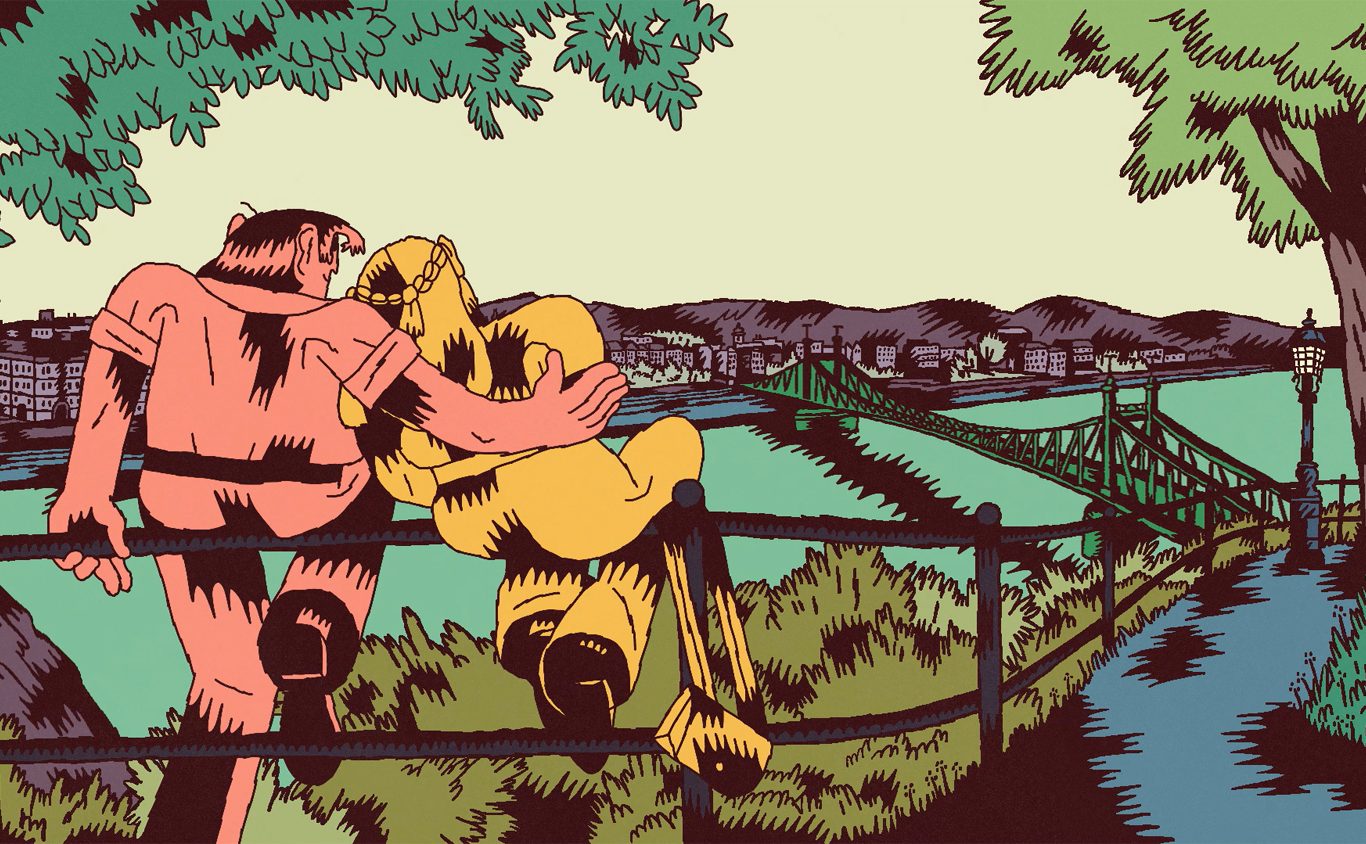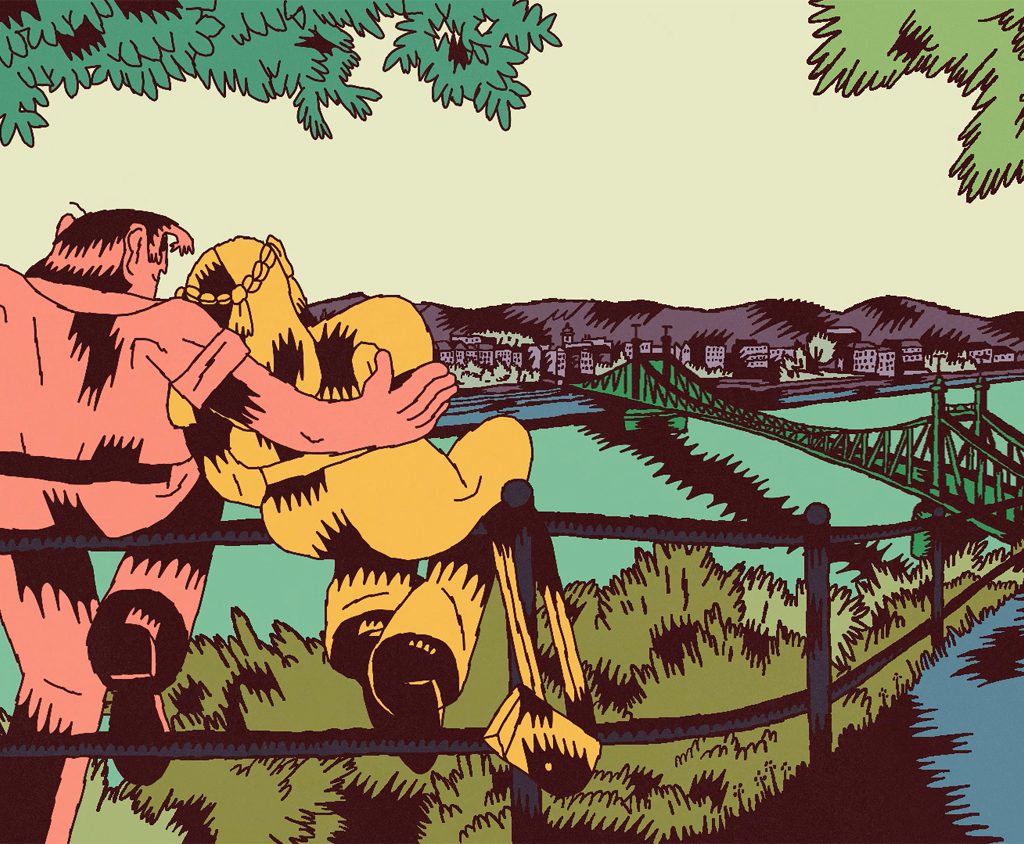 "To have it screening at a prestigious film festival is, in itself, a great joy" – Interview with Domonkos Erhardt
---
Domonkos Erhardt is a versatile animation artist: after completing first a BA and then an MA at MOME, he founded Piros Studio with his former fellow students, also creates comics in addition to working in animation, and his third solo film is going to be screened at the 73rd Berlin International Film Festival. His diploma film From the Corner of My Eye is a chamber piece with a distinctive Budapest vibe. It takes place on an old Ikarus bus, where the lives of two people previously unknown to each other become intertwined as their gazes connect for a magical moment. According to his own account, he likes playing with the proportion of what is told and what is left untold, leaving the viewer room to fill in the blanks using their own thoughts and experiences. His films to date have been shown at the Primanima and the Kecskemét Animation Film Festivals, and this was the first time one premiered abroad. We talked about his start and his journey to a milestone international film festival premiere.
---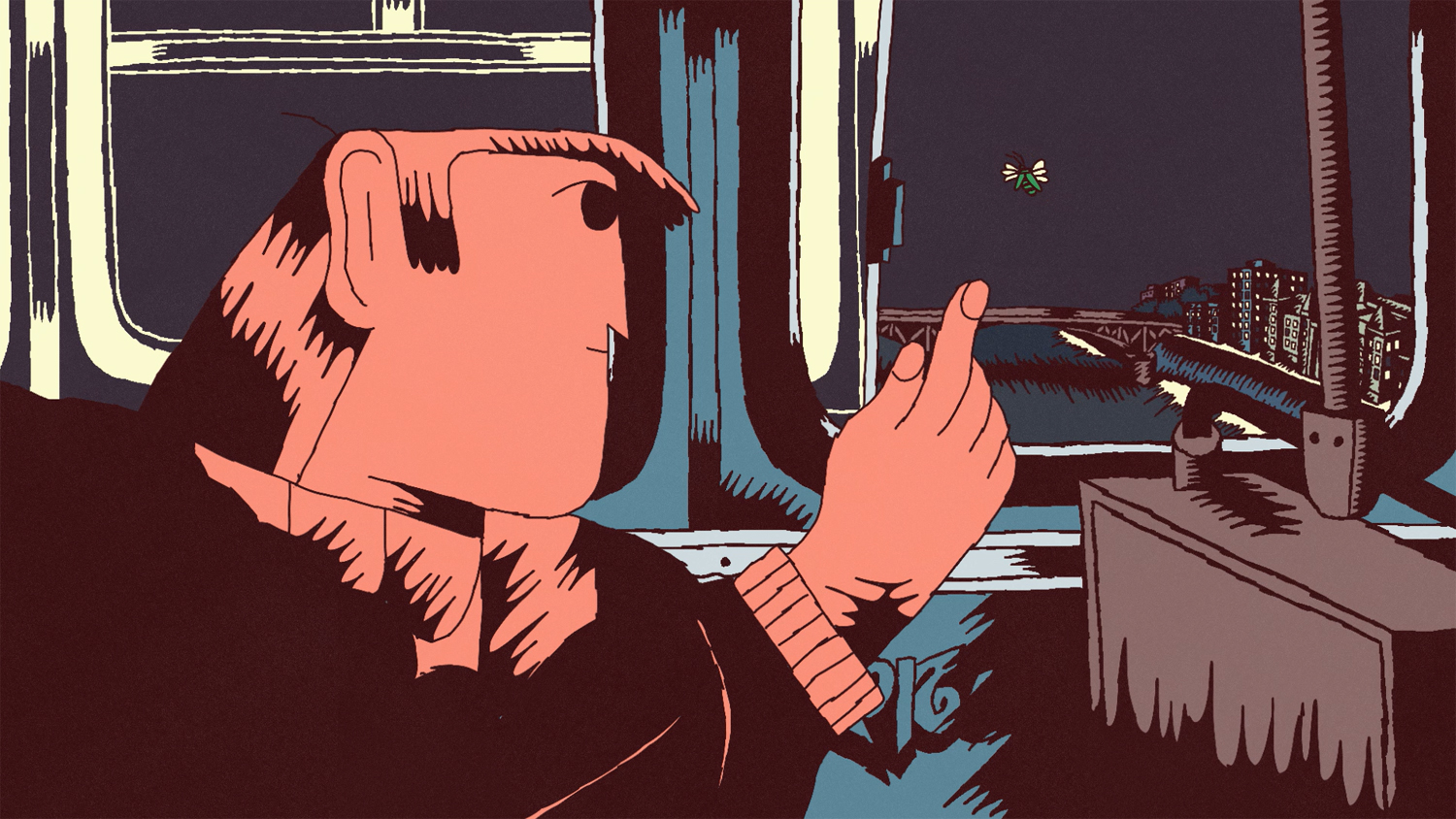 You first started out with a related genre, drawing comics that were published at the school paper back in high school. It was a straight line from the Illyés Academy to MOME. When and how did your first become interested in animation?
As a kid, I was mostly interested in and hooked on cartoons, so you could say I was raised by television as much as by my parents. I also played a lot of RPGs with my siblings, making up stories for minor characters, spending weekend afternoons like this. I was also captivated by the world of Cartoon Network, which is when I started doodling in my exercise book instead of taking notes in Maths class. Then, as I began to take a more serious interest in drawing, comics and animation came into the picture, and pushed me further down the road.
Straight to university. What were the most powerful experiences that you made there?
For one thing, I could learn from practicing professionals there. I reckoned the more professionals and perspectives I was exposed to, the better I'd become professionally and the broader my horizons would become. The exciting bit was that both at Illyés Academy and MOME, the majority of my teachers were not professional teachers but mostly animation professionals from various fields. Most importantly, what ultimately drew me here was film making. I knew it was something you can get a degree and start a career in. I was fascinated to see how a film was put together and by the prospects of making one myself one day. For another thing, making friends and building a contact network there were also life-changing experiences.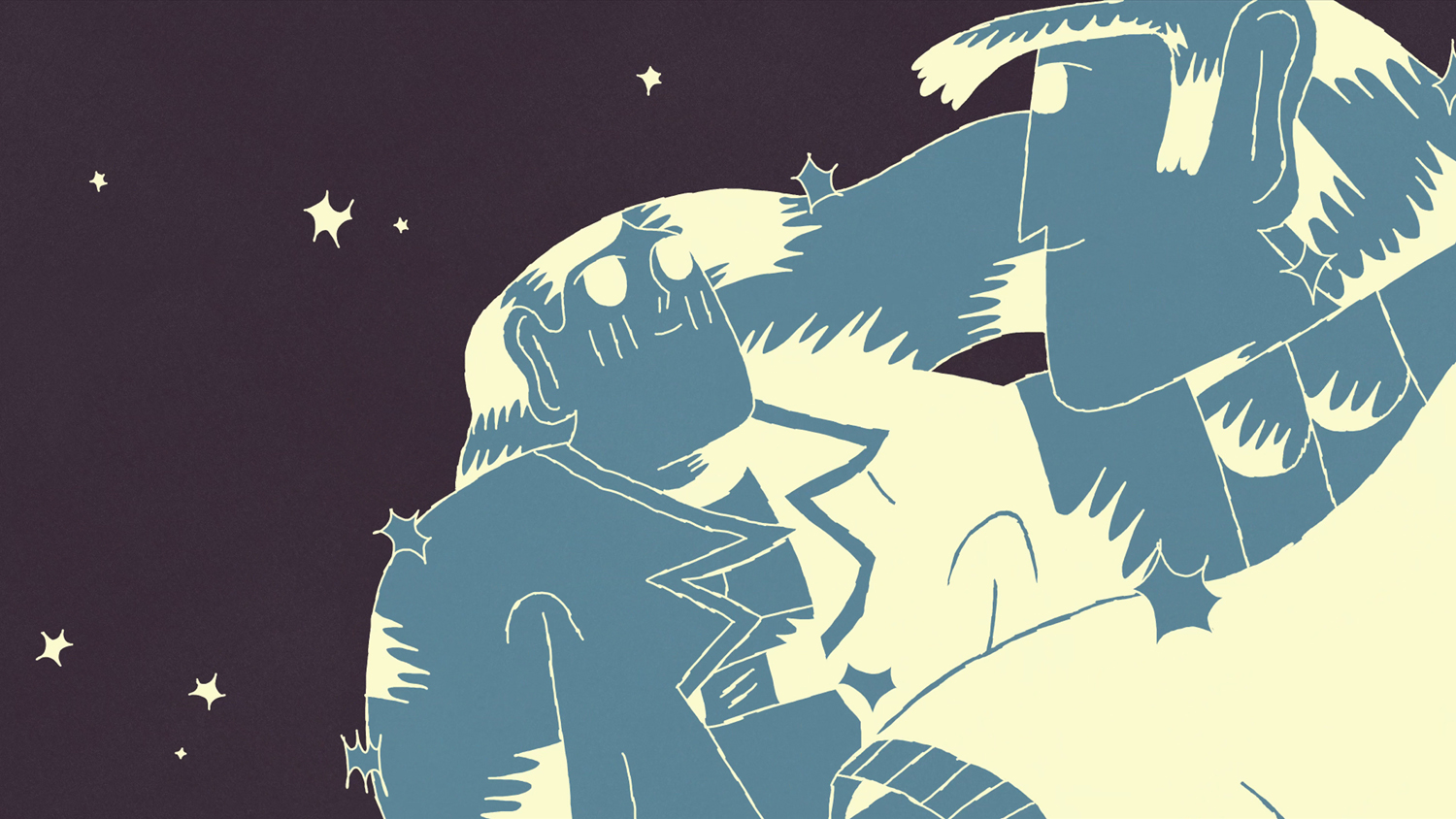 So much so that you went on to set up your own studio with your fellow students.
Yes, it is an amazing feeling to be able to not only make money but also work alongside my friends using what I learned. For us, the focus is teamwork, which I also happen to enjoy. The great thing about Piros Studio is that it gives both auteurial thinking and teamwork space to come into their own.
In contrast, From the Corner of My Eye brings personal success and auteurial artwork into focus. What was the story that captivated you so utterly that you felt compelled to turn it into a screenplay?
I blended together several things. One is the emotional background. I think it's a current problem for Gen Y people that once you have been together with someone long enough and despite clearly loving them, you start wondering whether the relationship was definitely good or what life could be like with another person. Before making the film, I often saw this come up with people around me. Several friends told me they were together with their girlfriends for a long time and simply feel attracted to other girls and vice versa. The other inspiration came from bus windows that turn into a sort of mirror when it's dark outside and the lights are on in the bus.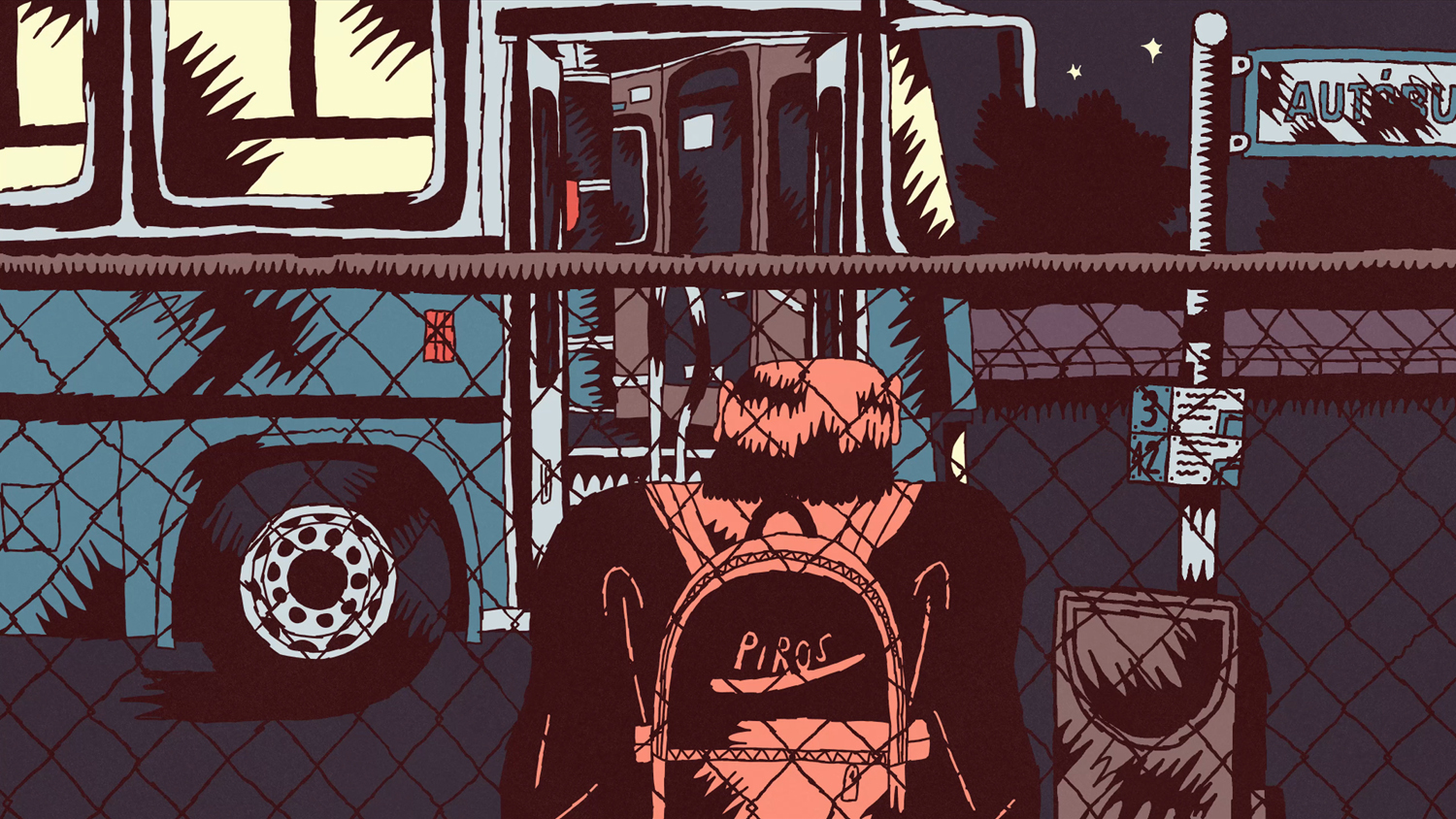 Your film has a very strong Budapest vibe. Some suggested you could even use this film to promote Budapest, because it has such a unique atmosphere. What are your thoughts on this?
I haven't heard this one, but I was told it could pass for a commercial for the Budapest public transportation company because the bus is drawn so precisely. I did try to infuse my own style, while also making a reference to our shared reality in a recognisable way. For this purpose, I've taken lots of reference photos with the help of the public transportation company at their Óbuda site. My sound engineer friend Mátyás Tóth, who created the noises and sounds in the film, spent a whole afternoon there. It was a fantastic experience. We took photos and made tons of sound and video recordings.
The film combines elements from several periods – for example the bus stop sign is also not from the present.
The environment you see in the film also recalls my childhood a little. I was born in 91, and there were still lots of Ikarus buses around, and I also drew from the 70s and 80s. The bus ticket for example is much older than the period the story takes place in. I wanted to create an intriguing, quaint, and slower-paced narrative to incorporate all these motifs. I like to tell a story without the description of the scene taking up too much time and giving it a degree of familiarity.
There are certainly many ways to relate to it.
I like to incorporate motifs that help the spectator fill in the blanks with their own personal memories and emotions. If they have ever ridden an Ikarus bus, they know what sound the squeaky pull handles make, how difficult it is to slide the windows shut or how strongly the bus vibrates… Yet it's not just the environment you can relate to, but the story as well. I'm certain many people have experienced something like this, fancying someone on the bus and picturing that their life together could be like.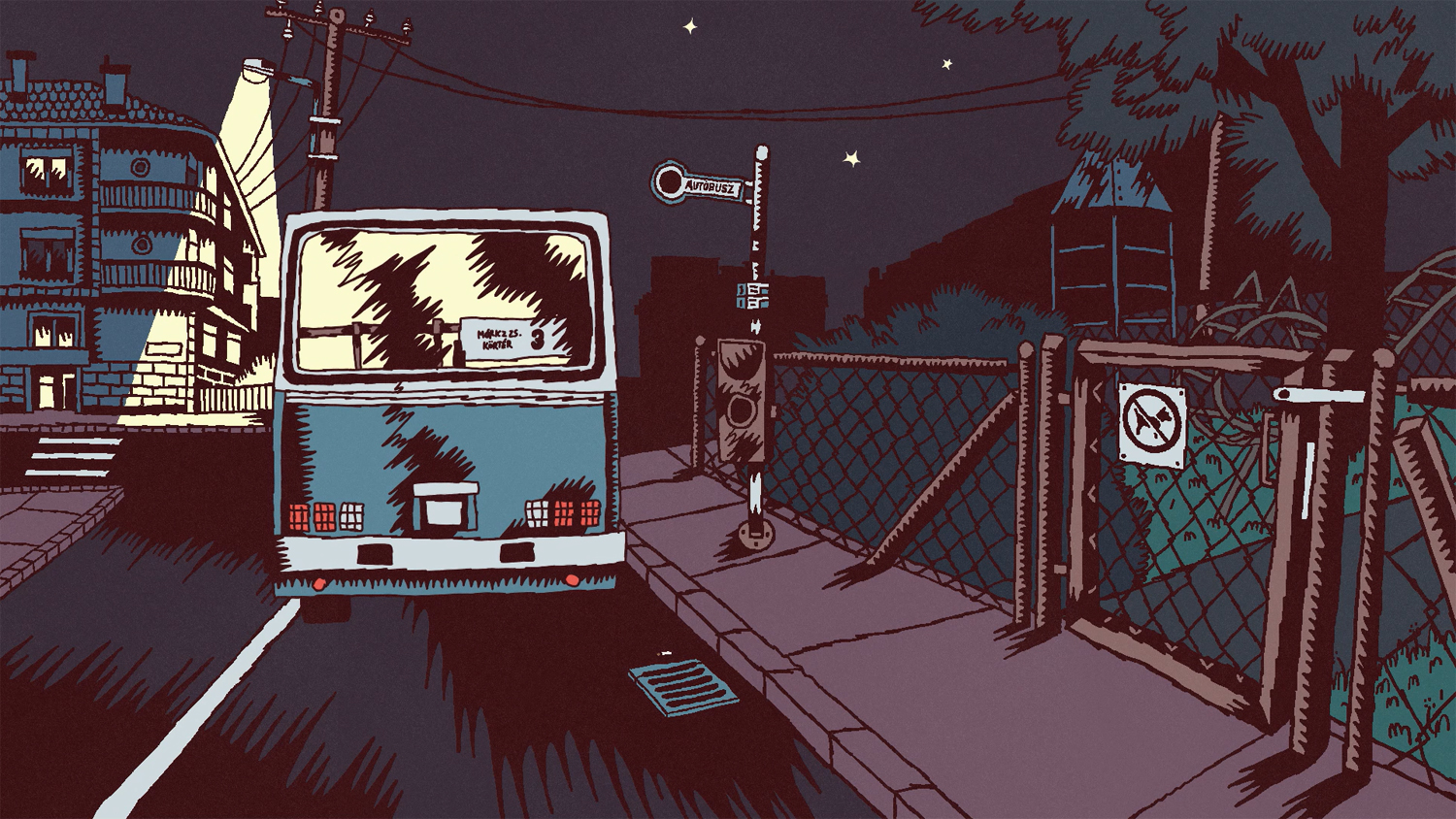 Your visual style in this film is unique – auteurial as you say. How did you start developing your figures?
I came up with the environment and the character design specifically for this film. I like to adapt the style to the current project to avoid getting my taste being stamped over everything. Meanwhile, as my visual culture evolves, I hang on to and adopt certain motifs, which, I reckon, will become my trademark. Of course I make no secret of the fact that the flat plane approach is also evident here in this film. Certain shots come from the comics culture. All in all, what I want when looking back on this film is to be able to learn from it, see how much I've changed and how much progress I've made.
Coming back to milestones – what can the Berlinale bring to a young animation director?
To have the film screening at a prestigious film festival is, in itself, a great joy. We can show it to professionals who might see its potential. My secret hope is that this film could help us land further jobs and put our studio on the map.
// /
Erhardt Domonkos graduated in 2022 from the Moholy-Nagy University of Art and Design Budapest, with an MA in animation. His graduation project supervisor was Fábián András Balogh, his consultant was Olivér Hegyi.
---