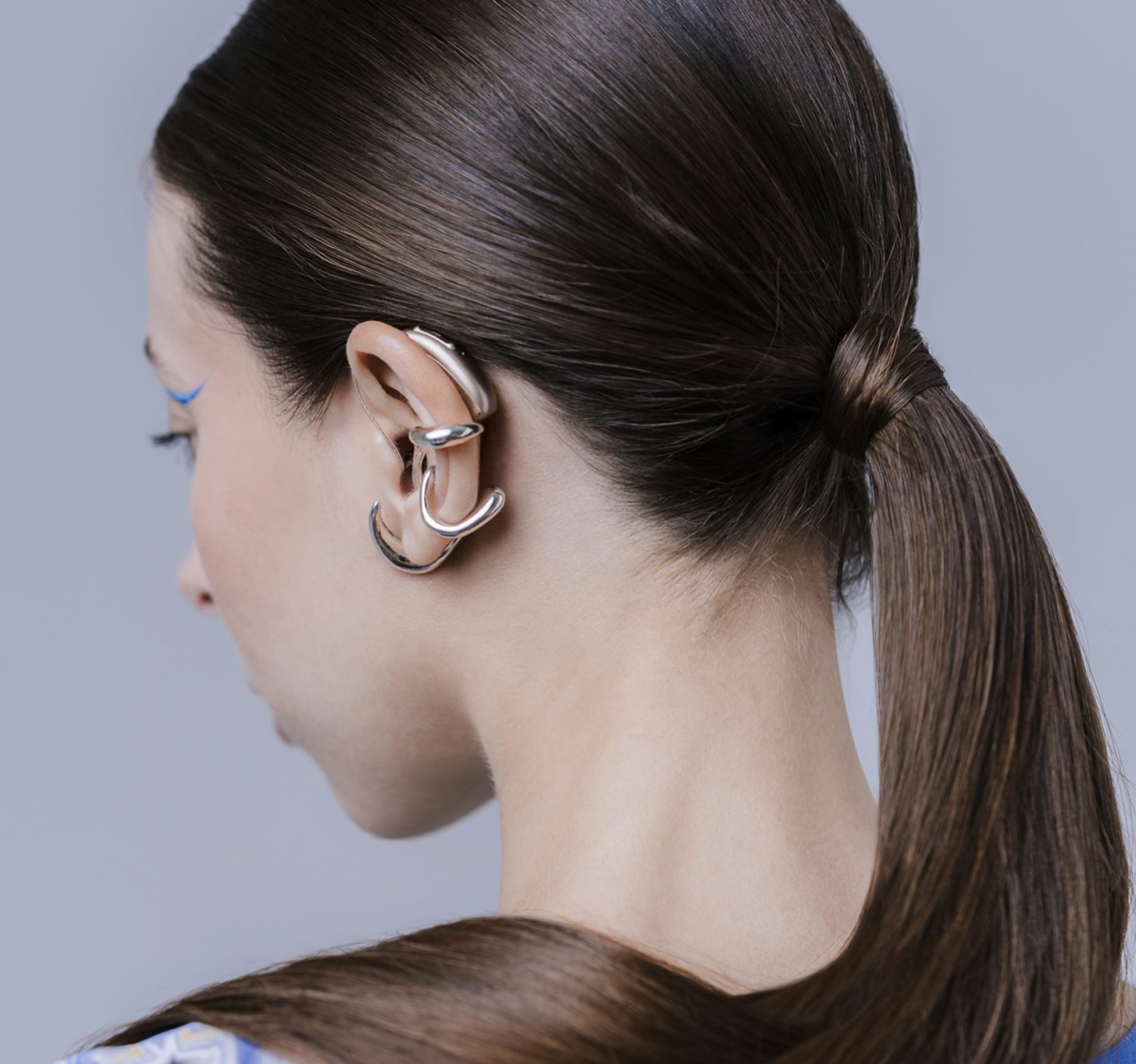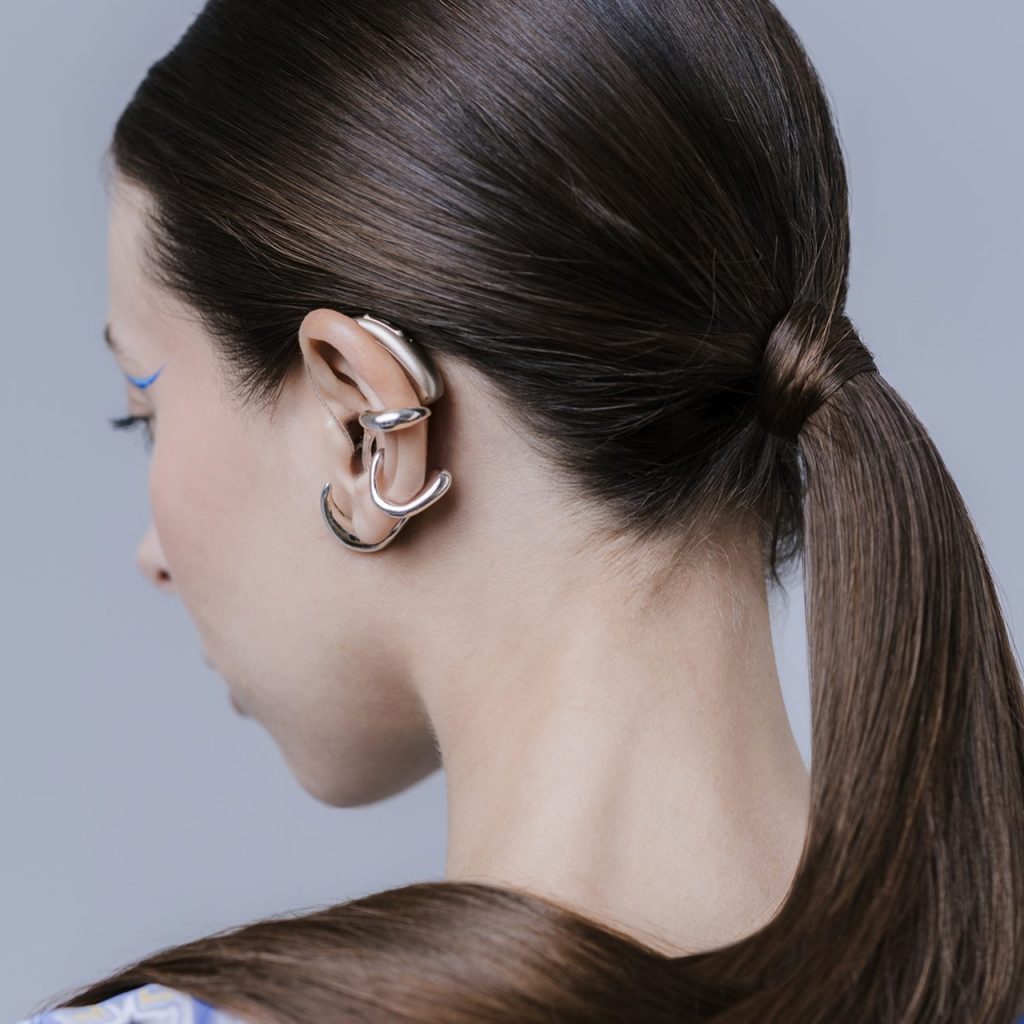 Let me see how you hear – Dress-coding's Hearring(s) project
---
Downtown Budapest, permeated by petrol fumes. We wade through the crowd balancing on endless flights of steps leading from overcrowded underpasses to overpasses, carrying shopping bags, bikes, or prams. Struggling to overcome these everyday obstacles of majority society, we can better appreciate the difficulty of navigating this urban jungle with a wheelchair. At the same time, less visible limitations might go right under the radar. But how would we realise if, in the morning rush hour, we ended up next to a hearing-impaired person? Looking at the range of pea-sized hearing aids available nowadays, we might think that those affected specifically aim for invisibility, even though it creates more difficulties for them. The focus of Dress-coding's latest project is the discourse around hearing impairment, which it attempts to shape through the reinvention of hearing aids design through an inclusive design approach.
---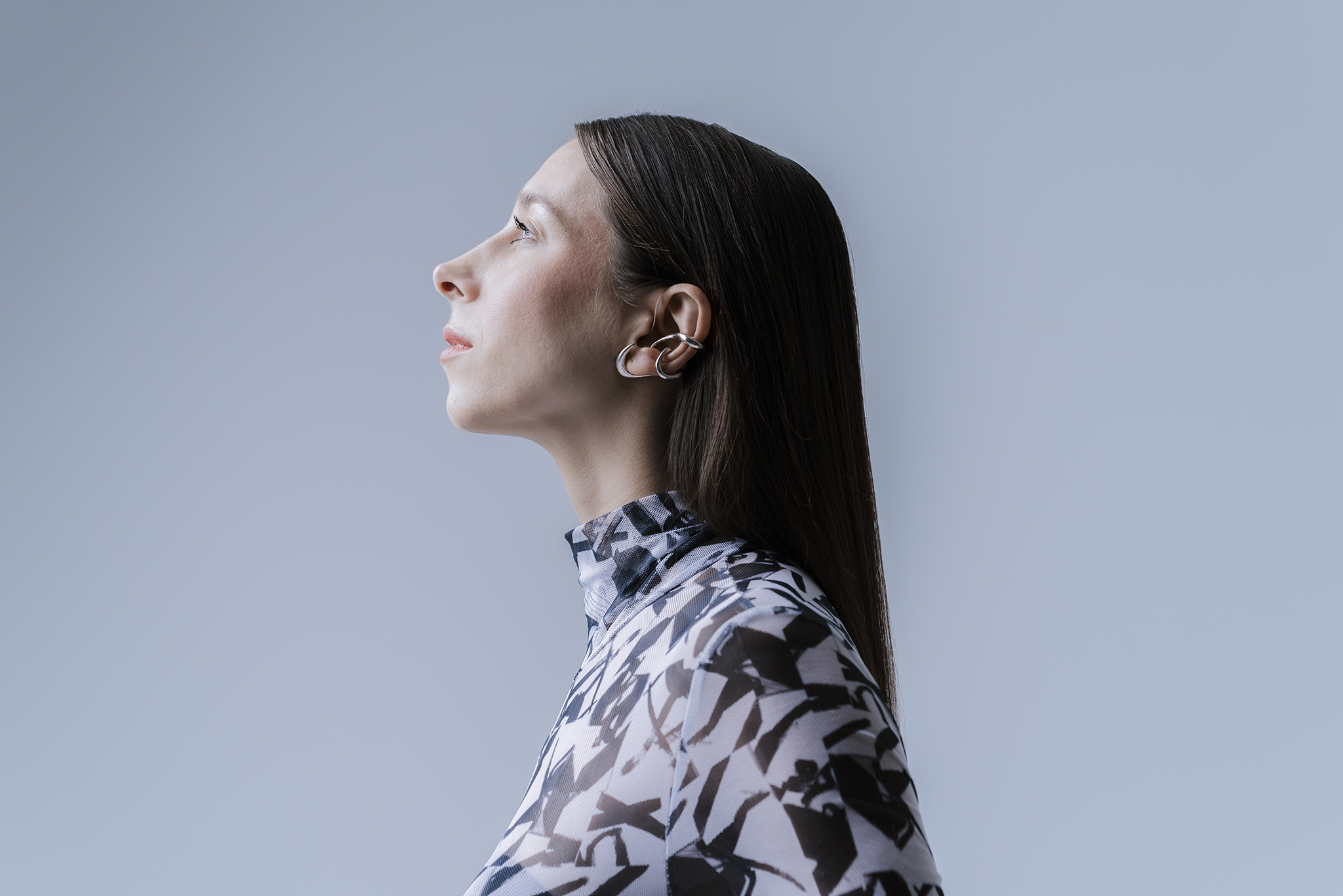 An exhibition featuring a garment set tailored to the needs of corset-wearers, a virtual clothing collection created jointly with a painter with Down syndrome, and designers with an inclusive approach: Dress-coding, an initiative combining fashion design with innovative technologies and attitude shaping, was launched by a young designer, Fanni Huszár. The group of enthusiastic volunteers involved aim to raise awareness about the importance of an inclusive design approach that go beyond the classic expectations of a mainstream consumer society.
As Dress-coding's social media and design manager Anna Vékony underlined, their earlier works explored more visible disabilities, and so when it came to hearing impairment, it was precisely the invisibility and the related difficulties and taboos that they were intrigued by.
"Less conspicuous hearing aids mean members of majority society have more difficulty identifying people with hearing impairment, which can lead to uncomfortable situations resulting from misunderstandings."
As no one in the team had prior experience with hearing impairment, they used an affected volunteer and an audiologist to explore the different forms of this impairment, its everyday implications, and the types of hearing aids. From the interviews with hearing-impaired persons it soon became clear that though the interviewees would like to be able to customise their devices to their own style, size and sensitivity are an issue. The project followed from that logically. "We envisioned a hearing aid jewellery to be created together with a hearing-impaired model selected at our casting, and tailored fully to her needs."
Noémi became their choice, who, despite living with moderate hearing impairment from childhood, only started wearing a hearing aid a year ago. As a teenager, she was held back by a fear of being mocked, while as a young adult, for a long time she found the available technology uncompelling. Today, she can listen to music and receive phone calls with her Hi-Tech device, at the same time, she is keenly aware that technological progress does not go hand in hand with widespread awareness raising about hearing impairment.
"Many people have no idea how to treat a disabled person. They are not trying to be hurtful out of meanness, there is simply no public discourse about the subject, and so people get embarrassed easily when dealing with us. I thought if I can convince just one girl to dare wearing her aid, it was worth it."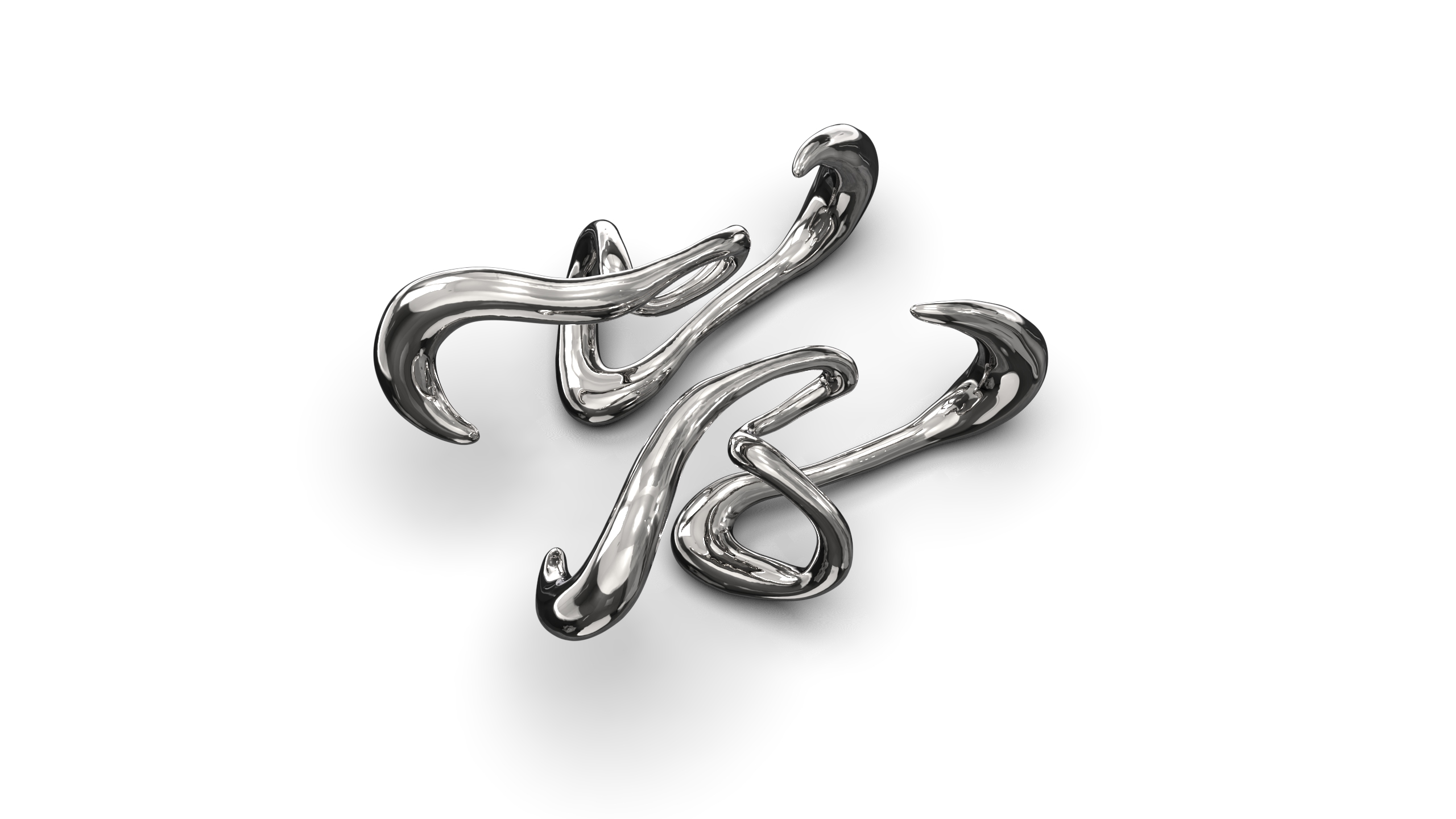 The team asked designer Balázs Ágoston Kiss to develop the hearing aid jewellery. His generative and 3D designs include material explorations of technological changes as well as conceptual works. In addition to his passion for jewellery making which he inherited from his father, his theoretical interest is also close to the focus of the project. "In the context of technology and the transhuman concept, I've become intrigued by body augmentation and prostheses." Though according to the original concept, Balázs was going to disassemble and transform the hearing aid, the background research revealed that any kind of tampering could disable the tiny and extremely sensitive device worn by Noémi. "I was trying to figure out some sort of addition that would not come in contact with the device itself, and yet would curve around the ear like a prosthesis, following its shape." The distinctive, biomorphic shape of the jewellery was fitted on a 3D print of Noémi's ear and fine-tuned through four prototypes into a solid and comfortable item.
Seeing the Hearring(s), it raises the question when they will become widely available. "To be honest, mass production would rule out inclusivity, the process of designing together with the model, which we see as one of the keys of project." Anna does not regard production as a viable option, and not just for the purposes of Dress-coding, but also in view of the production costs and Balázs's unique artistic signature. "The project is intended to raise awareness, and hopefully, it could attract widespread interest in sophisticated and attractive hearing aids." Despite being a one-time experiment, it can ultimately make a reality more tangible, where we can actually see how a person ending up next to us in the morning rush hour can hear, and perhaps even ask them where they got their jewellery.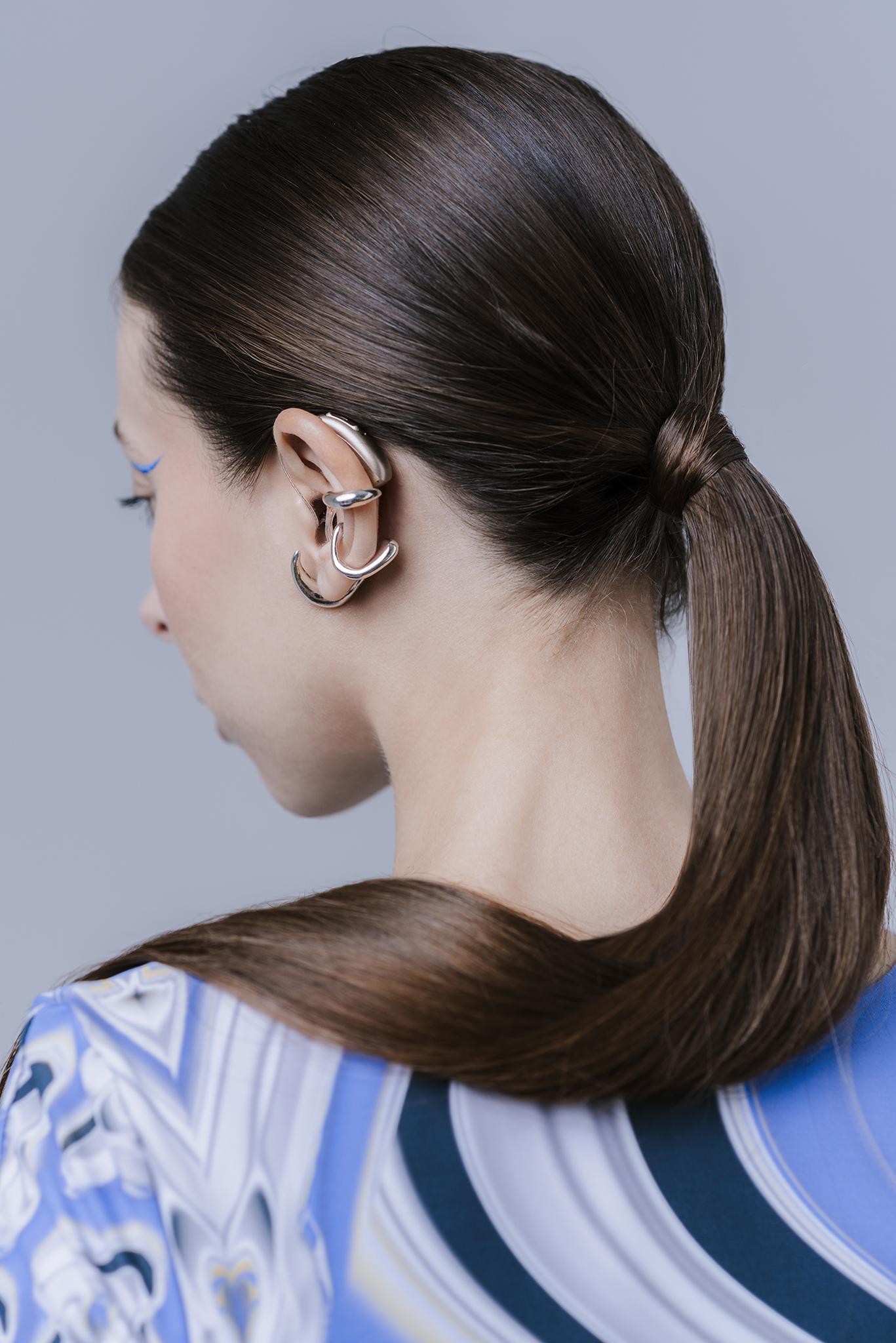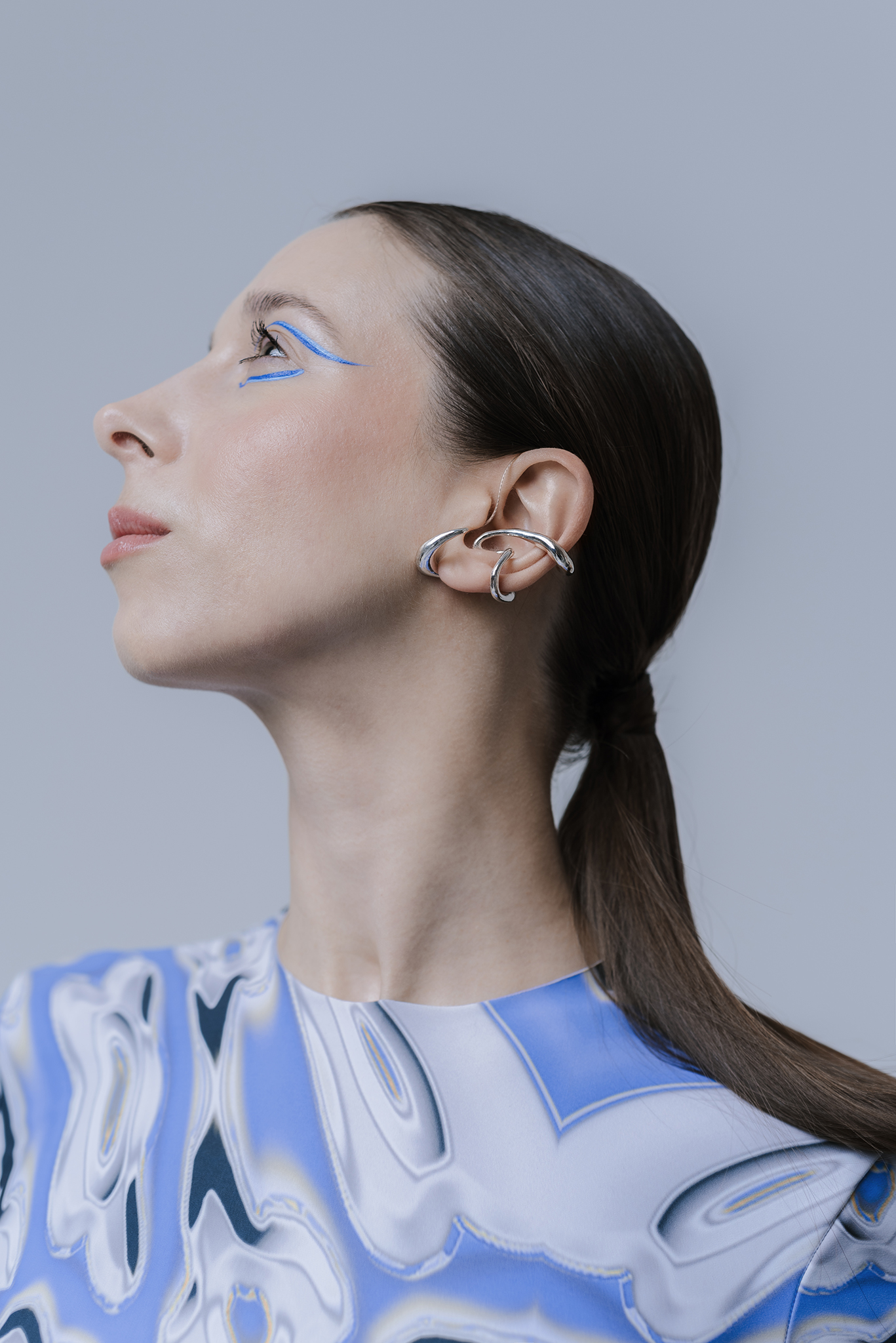 // /
The hearing aid jewellery project was completed on a volunteer basis, and Noémi received the resulting item free of charge
Dress-coding's activity can be followed HERE
Members of the team: Fanni Huszár, Emese Solti, Anna Vékony, Anikó Nagy, Eszter Papp
Balázs Ágoston Kiss's works are available HERE
Renders by: Balázs Ágoston Kiss
Photo credit: Réka Hegyháti
Model: Noémi Tóth
---