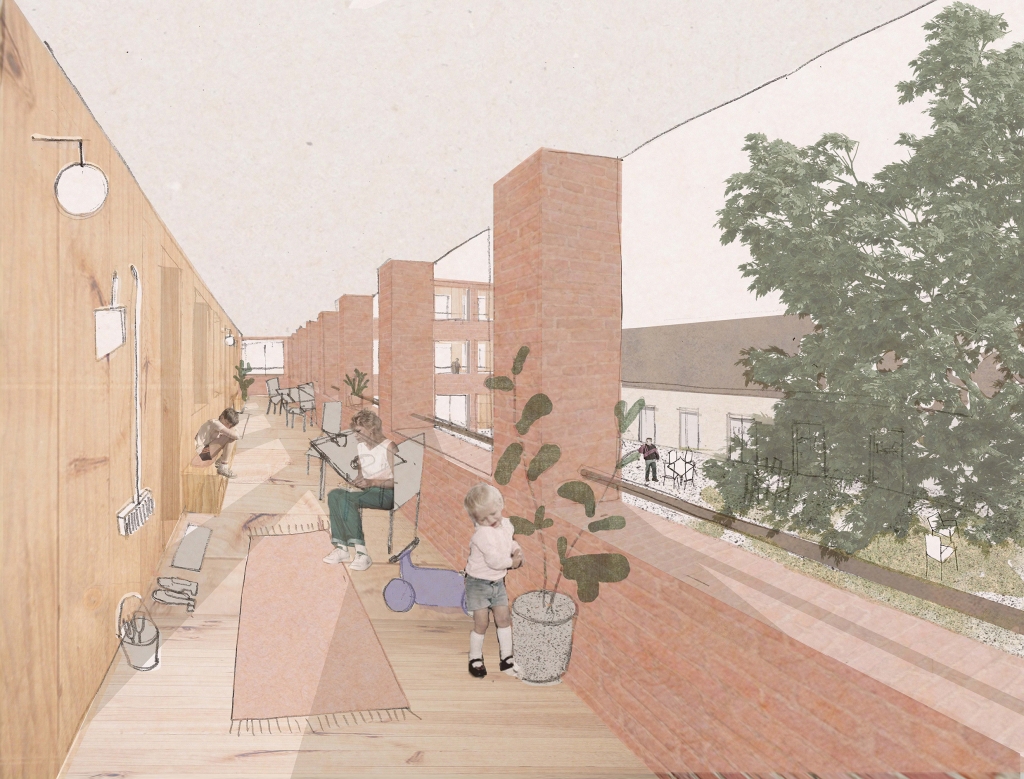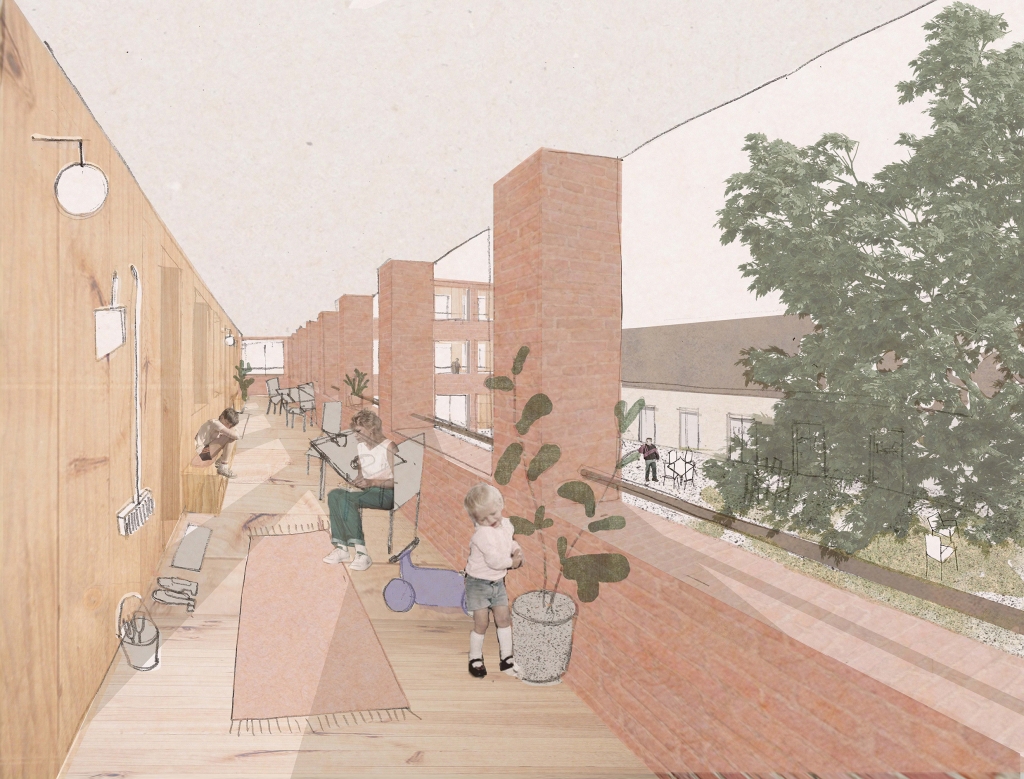 Designed care
---
The years 2020 and 2021 brought radical changes into everyone's lives. The rules introduced as a result of the pandemics have disrupted our normal routines. This must have been the experience of the architects of the Hidden Dimension exhibition, whose MA years have been dominated by the lockdown. In light of this, the social sensitivity and openness bordering on intimacy exuded by the designs come as no great surprise. The overwhelming majority of the designs dealt with architectural concepts filled with empathy, such as collective living, social housing, or rehabilitation centres.
---
The title of the exhibition is a reference to anthropologist Edward T. Hall's book The Hidden Dimension published in 1966. According to the core message of the book,
"No matter how hard man tries it is impossible for him to divest himself of his own culture, for it has penetrated to the roots of his nervous system and determines how he perceives the world".
Hall describes culture as a fourth dimension inseparable from how we relate to the world, which affects us throughout our lives whether we want it or not. The anxiety-inducing effect and the confusion surrounding the communication of the lockdown were hard to incorporate into the conventional lives we had led until that point. As Hall also pointed out, how we perceive the world is also dependent on human relationships, activities and emotions in addition to the senses. Any disruption or clash in these result in conflict, alienation and distorted communication.
The years spent confined to the online space have conditioned us to keep our distance, and gave a completely different meaning to concepts such as closeness, touch and trust. Prompted by a feeling of desolation, the exhibitors sought to create designed care which offers many possibilities from building quiet friendships to active social assistance.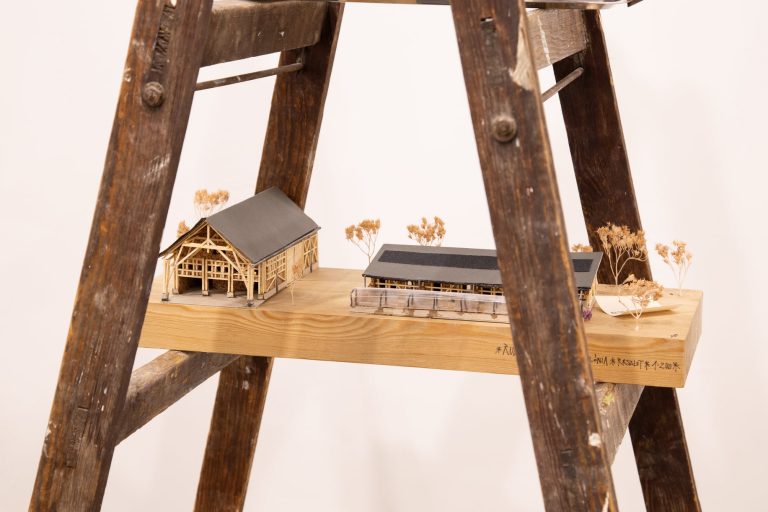 Vince István Rudolf: Dance Colony
---
Community living, as well as the fostering of culture and nature come together with the lifestyle of a group of folk dancers and musicians in harmony in Vince István Rudolf's Dance Colony. Collective housing evokes the natural traditions of rural life and relies on their community building role.
Háló Veronika Róza: home+
---
"Spatial experience is not just visual, but multisensory…people differ in their capacity to visualize—in the quality and intensity of their visual imagery", Hall writes.
Veronika Róza Háló's design is linked to this thought. She researched in detail the unique spatial perception of people with dementia in her thesis entitled Space and Identity, and developed a sort of visual context, criteria and strategy. Her concept provides an architectural framework for people with dementia, creating a sense of security while providing an open and rich home environment.
Sára Farka: More than Shelter
---
Another sensitive example of active assistance is Sára Farkas' masterwork More than Shelter, which could be matched with the following Hall quotation:
"People carry around with them internalizations of fixed-feature space learned early in life."
This experience has a higher likelihood of growing into trauma in the case of homeless, abused children and mothers. The receiving institutions are normally characterised by a disproportion of control and freedom. In mothers' homes, private and community spaces also have a different distribution, presumably to help with the regulation and control of families, resulting in an environment that is often not sufficiently intimate for parents with self-esteem issues. In contrast, Sára's masterwork is complete with standalone "exit" flats that could be used for the longer term to provide motivation and assistance for moving on. In the ideal home, an internal yard, a garden and old trees all play an important part.
Hanna Kubinyi: Social housing and public space
---
"We must begin seeing man as an interlocutor with his environment, an environment which these same planners, architects, and builders are now creating with little reference to man's proxemic needs….Most important, the rebuilding of our cities must be based upon research which leads to an understanding of man's needs…", the author of The Hidden Dimension wrote in the 1960s, putting forward his requirements.
The exhibition also features Hanna Kubinyi's masterwork, an experiment with a yard creating a transition between city and housing unit. She sought to create a system within a given space that could support the strengthening of the social network of people requiring social housing. The design investigated the possibility of how an empty lot in a busy, noisy and smoggy neighbourhood in the Zugló part of the 14th district could function as a public space and a residence at the same time.
The works are best enjoyed live, and are on display at MÉSZ until 7 April. The ones featured here are just a selection, but the rest can also set an example to follow in the area of socially sensitive architecture.
And for conclusion here is another quotation from Edward T. Hall, whose thoughts are reflected by the ethos of the designs displayed, and have significance not only in the years of lockdown, but also beyond:
"There is a great need to revise and broaden our view of the human situation, a need to be both more comprehensive and more realistic, not only about others, but about ourselves as well. It is essential that we learn to read the silent communications as easily as the printed and spoken ones. Only by doing so can we also reach other people, both inside and outside our national boundaries, as we are increasingly required to do."
// /
The exhibition is open until 7 April in MÉSZ (1088 Budapest, Ötpacsirta u. 2.) weekdays between 9:00 a.m. and 4 p.m.
The designs were developed at the Architecture MA of Moholy-Nagy University of Art and Design.
Exhibiting artists: Adham Shakaki, Bianka Bús, Flóra Farkas, Sára Farkas, Zsófia Fodor, Veronika Róza Háló, Krisztina Horváth B., Juli Jakabos, Hanna Kopacz, Hanna Kubinyi, Anna Pongrácz, Vince Rudolf, Zita Técsi, Áron Turóczi
Curators of the exhibition: Regina Mihály (MOME Cultural Management specialised further training) and Sára Sípos (MOME Art and Design Management MA)
Supervisors and consultants for the masterworks featured in this article: Vince István Rudolf's supervisor was Tamás Getto and his consultant was Csaba Bodonyi; Sára Farkas's supervisor was Zsófia Csomay and her consultant was György Kubinyi; Veronika Róza Háló's supervisor was Zsófia Csomay and her consultant was Áron Vass-Eysen; Hanna Kubinyi's supervisor was Balázs Marián and her consultant was Péter Debreczeni.
---