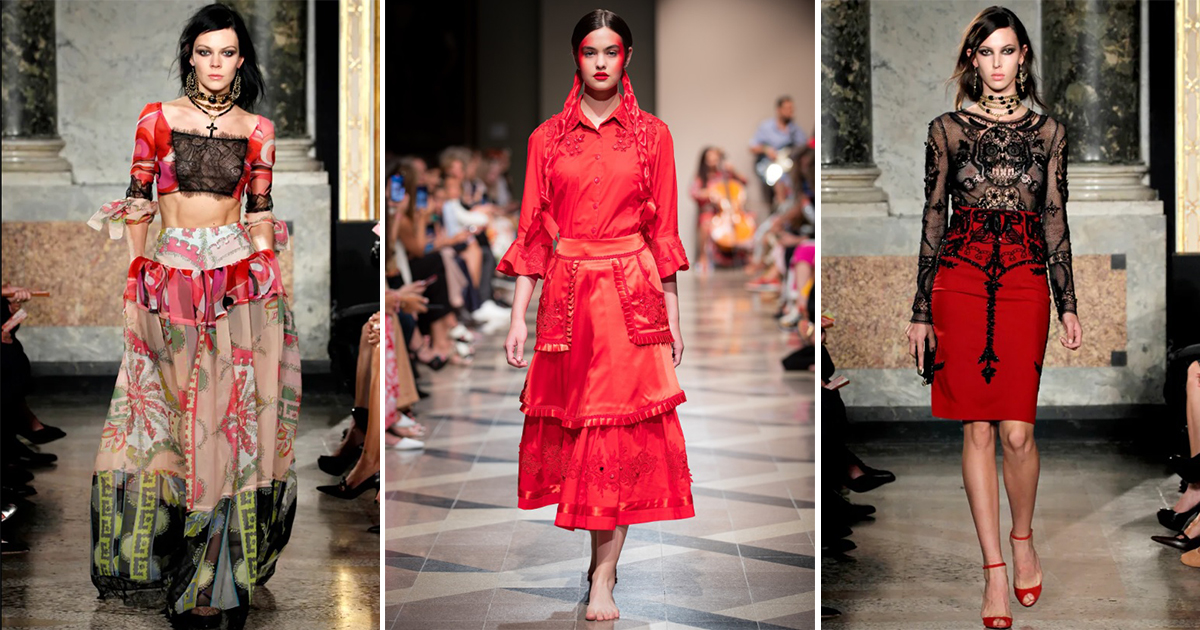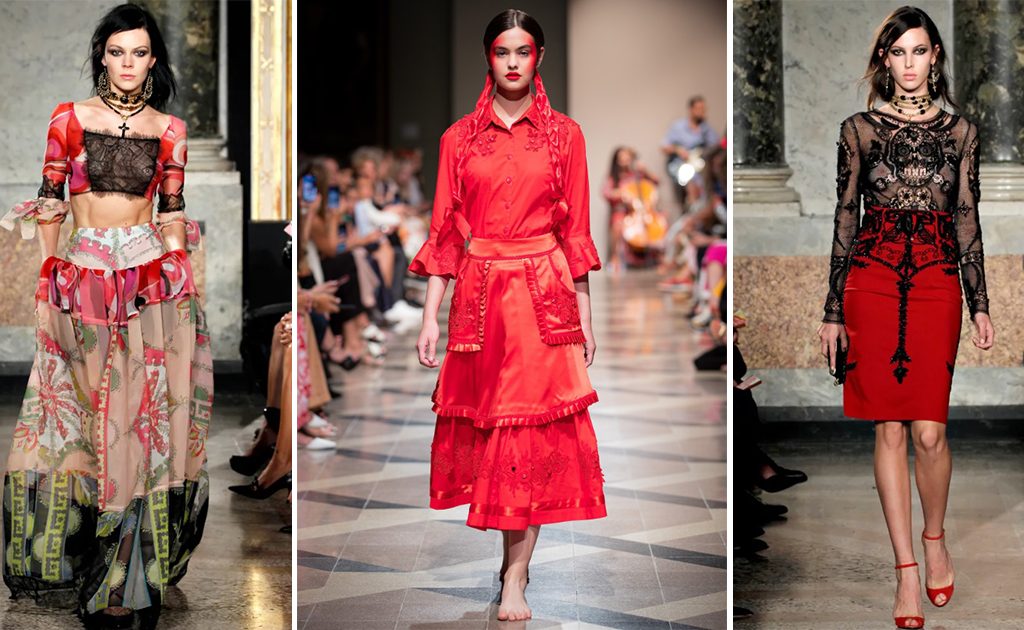 From Bohemian idyll to activism – Contemporary Roma fashion as a means of representation
---
As a result of insufficient cultural awareness, [1] mistrust of difference, and systematic segregation, the only connection mainstream society has to the Roma is through negative stereotypes. Securing fair representation of their community is becoming more and more of a priority for Hungary, and could go a long way, hand in hand with systemic political changes, in eliminating prejudices. Contemporary fashion as a communication channel spanning social strata and age groups could be an ideal experimental testing ground for change. Dominated by mainstream culture, the fashion industry has been using motifs from traditional Roma wear for a long time, often taken out of their original context, further complicating the issue of Roma representation.
Kate Moss at the photoshoot for V Magazine, 2009 // Source: designscene.net
---
Throughout their wanderings, the Roma have reached all corners of the world, developing a great variety in their clothing and its meaning. Due to its cultural diversity, designers take a liberal approach to Roma wear, also borrowing motifs from other cultures and styles for a contemporary reinterpretation [2]. This is how Roma garb has become 'boho' over time – just think of boho-chic, boho-rock, boho-luxe or boho-hippie – conveying a distinct nomadic or beach feel, or Native American, Flamenco or luxury circus vibes [3].
A photo series published in 1967 in Look Magazine featured Italian models with grubby faces wearing skirts and crop tops and lying on the floor in a barn. The pictures were captioned with the exclamation "Let Yourself Go Gypsy!" From then on, fashion magazines would go for the Roma-style bohemian look [4], including a photo series with Kate Moss as late as in2009. Taken at the farm belonging to the Cornwall Roma community in England, the photos feature Moss sporting accessories and surrounded by items reminiscent of the Roma lifestyle. While this fusion of Roma motifs and boho look could be construed as a sign of mainstream society's admiration for Roma clothing [5], it also conveys a falsely idyllic, romanticised image of the community.
Emilio Pucci Spring 2012 Ready-to-Wear // Source: vouge.com
---
Being lumped together with anything bohemian is evident not just in campaign photos but also in contemporary Roma fashion collections of recent years. The fashion caravans of former designer of the Italian Pucci brand Peter Dundas evoked the Roma look with flamenco-style tops, ruffled skirts, and guitars and castanets in the background. Luxury womenswear designer Joseph Altuzarra cited comic-book hero Corto Maltese as the inspiration for his "Gypsyish" brocade breeches, shearling toggle coats, and rich embroideries reflecting contemporary gypsy chic. In comparison, Vivienne Westwood's 2009 Roma collection, designed in the spirit of tolerance, made a much more radical statement. The Milan show featured Roma men as models wearing clothes playing into the stereotypes, sparking a controversy that exposed the anti-Roma sentiments of Italian society.
Gypsy Sport Spring 2023 Ready-to-Wear // Source: vouge.com
---
Westwood's transgressive strategy has held a distorting mirror to mainstream society caricaturing its exclusionary methods. We have come a long way from the Bohemian idyll to fashion activism addressing the issues, but where do we look for an authentic representation that offers a genuine alternative? Balenciaga alum fashion designer Rio Uribe's own brand Gypsy Sport has an unusual take on the subject. His strategy addressing the African-American, Roma and LMBTQ communities is directed at blurring the lines between cultures, sexual orientations, and genders. Despite the nobility of his intentions, we may well wonder in precisely what way can a fashion label with the word gypsy in its name represent everyone.
Looks from Romani Design's Red and Blueprint collections // Source: romani.hu
---
In addition to the above examples, what the internationally and nationally relevant Romani Design does is so unique precisely because it is looking to find ways for mainstream society and the Roma to coexist beyond the realm of the fashion industry. Launched in 2009, their initiative was designed to fill the market niche in fashion products offered to Hungarian Romas. The social responsibility of the fashion label drawing on authentic Roma culture and responding to contemporary needs is also apparent in their own mentoring and training programme. In 2022 they joined the Veszprém-Balaton 2023 European Capital of Culture programme, seeking to reintegrate the excluded Roma community of Berhida into the city's life. Their accomplishments so far are indisputable – it was their efforts that kickstarted the Hungarian creative industry discourse about Roma representation.
// /
The article is based on Dávid Balázs's thesis Analysing Traditional Romani Clothing in Light of Modernity. The research was conducted at the BA programme of the Moholy-Nagy University of Art and Design, with The institutional system of modern art and design course as its starting point, and Tímea Antalóczy as Dávid's supervisor and thesis advisor.
[1] Junghaus, T. 2006 Meet Your Neighbours – Contemporary Roma Art from Europe. In Common Space. The question of ethnic minorities and cultural identity in the art of the Carpathian Basin. Ernst Museum, Budapest
[2] La Ferla, R. 2012 Joining the Gypsy Caravan. https://www.nytimes.com/2012/07/12/fashion/joining-the-caravan-the-gypsy-aesthetic-gains-in-popularity-on-runways-and-streets.html
[3] Wicker, A. 2020 The Fight to Strike "Gypsy" From the Fashion Lexicon. https://www.vogue.com/article/roma-activism-fashion
[4] [5] Sinziana, C. Marin. 2014 Bepillantás a divat világába – Közelebb kerülni a roma kultúrához (A glimpse Behind the Scenes of Fashion – Getting closer to Roma culture). https://romediafoundation.wordpress.com/2014/11/26/bepillantas-a-divat-vilagabakozelebb-kerulni-a-roma-kulturahoz/
---